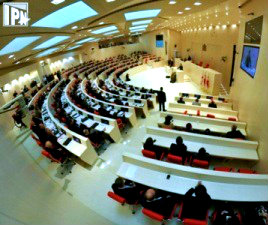 TBILISI, DFWatch–The Georgian parliament grudgingly abandoned its plan to overturn the president's veto against a decision to postpone legislation that would quickly curb the Interior Ministry's ability to carry out secret surveillance.
Georgia has introduced tougher restrictions on the use of secret surveillance, but lawmakers haven't been able to agree on who should have control of the keys to the 'black boxes', which are the means to carry out eavesdropping through communication lines.
The law set an expiration deadline of November 1, before which lawmakers would have to agree on a new formula for eavesdropping. Otherwise, the secret police would no longer control the keys, and the country's domestic intelligence would be significantly hampered. But parliament voted Thursday to extend the deadline for six more months. This is what the president vetoed.
Parliament on Friday voted 96 against 1 in favor of President Giorgi Margvelashvili's proposal of a much shorter postponement for when to adopt the most controversial part of the legislation – the so-called keys to the 'black boxes' that are currently in the hands of the security services:  December 1.
It still not clear whether parliament's last decision grew more out of fear of the ruling coalition or its own inability to muster the votes necessary to overturn the president's veto, as the 10 strong Free Democrats faction had announced earlier that it would not vote along party lines.
Parliament's decision was immediately signed by the president.