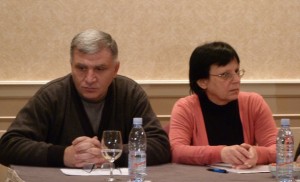 TBILISI, DFWatch – One of the chain of newspapers outlets in Tbilisi tell of a more than 80% drop in sales. The reason is that city hall has physically torn down most of their kiosks.
The press association warns that that this could kill free press in the country.
This was the gloomy forecast laid out at a press conference today, where representatives of newspaper distributors and the head of the Georgian Press Association listed the alarming figures that are the results of Tbilisi City Hall's project '100 Booths'.
The City Hall says it aims to improve conditions for small and medium sized businesses, and announced an auction for locations of new kiosks which includes places where there have been newspaper kiosks for years.
Because the prices in the auction are very high, it's unlikely that existing distributors will be able to afford the lease, even if they win the contract.
Another argument City Hall is making is that the newspaper kiosks have been illegally located at their current locations.
But at the meeting in Tbilisi Marriot Hotel on Wednesday, a representative of a press distribution company rejected this, and told of a number of negotiations he had had with city hall about the location and ownership of the booths.
The representative of Planeta Forte Company says it took him at least one year to achieve agreements about all the booths, due to disagreements over issues like design, location and other things.
He says that they renewed the agreements and applied once more to City Hall in 2005, requesting confirmation of their locations, which was approved.
"I received permission for 123 locations, and we managed to place the booths on 80 locations," he remembered, adding that the first campaign to remove booths began in 2007. 38 of Planeta Forte's booths were taken away.
Later the companies once again appealed to City Hall, which promised to provide some guarantees, but there wasn't any real response.
"Every two months we contacted them to find out what was happening. Today they told us to take away our illegal booths and get them out of the city," Merab Chanchalashvili of Planeta Forte says.
Planeta Forte used to distribute 170 000 newspapers a month, today it distributes 51 000. Another company called Matsne was distributing 275 000 newspapers a month before city hall's intervention, today it distributes only 40 000. In 2007 the total number of employees in both companies was 265 – Matsne had 150 employees, Planeta Forte 115 employees. This has been drastically reduced.
"Today Matsne has 64 employees, 35 of which is to be made redundant from January 1, and Planeta Forte has 33 employees, at least 20 of which will be made redundant. In fact, 180 employees are left unemployed," Merab Chanchalashvili says.
Dali Macharashvili, lawyer at Matsne Company, says that of her company's 119 sales locations, many booths have been taken away because they didn't conform with design requirements.
"It took on a massive form in November-December, and today only ten of our booths are left in the capital. But we think that they will take away these ten booths by the end of the month," she says, adding that nearly 30 employees are left at the company today. There used to be nearly 150.
"The company is on the edge of bankruptcy. The only hope is to participate in these auctions for locations where there used to be newspaper kiosks," Dali Macharashvili says.
Another problem, she says, is that the newspaper distribution company won't be able to pay the 20 000 lari in lease fee. The price should be accessible for these companies, she argues. Otherwise it won't make any sense to win the auctions.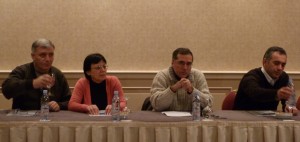 "City Hall made the decision to abolish the lease contracts, dismantling the objects, and they haven't taken into account how socially important sphere this is," a representative of Elva Service Company says.
If this process continues in other ways, for example by prohibiting newsstands or other ways of distributing newspapers, Elva Service Company's spokesperson thinks it mean the end of the newspapers.
The representative says this project doesn't fit with aim of supporting small business and create jobs.
"If somebody will employ at the expense of the problems created for us, this doesn't mean creating jobs, but that there is a replacement," he adds.
(Bottom image shows (from left to right) Merab Chanchalashvili of Planeta Forte, Dali Macharashvili, lawyer at Matsne Company, Lasha Tugushi, head of the Georgian Press Association, and a representative of Elva Service Company. Photo: Mari Nikuradze.)