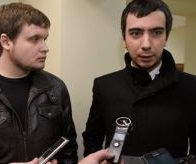 TBILISI, DFWatch–A prank by two Russian pro-Kremlin bloggers has led to calls for the resignation of Georgia's interior minister for rejecting a fake offer by Ukraine to extradite former President Mikheil Saakashvili.
A voice sounding like Georgia's minister of internal affairs is heard being tricked by the Russian pranksters Lexus and Vovan into believing an offer to let Saakashvili be handed over to Georgia; an offer he rejects even though the ex-president is wanted for serious charges.
In the telephone conversation, one of the pranksters, posing as Ukraine's interior minister, Arsen Avakov, who has been at odds with Saakashvili for years, says the latter is preparing to enter Ukraine via Kiev airport and offers to hand him over to Georgia.
A voice resembling that of Georgian interior minister Giorgi Mgebrishvili is heard saing in the nine minutes long conversation that Georgia is reluctant to allow the former president in and try him.
"He is an adventurer and an extra headache, we do not need [him here]," the voice resembling Mgebrishvili says in the conversation. "We are asking you if this scab appears [in Ukraine], let him be a vagabond and go around the world, rather than sit in a Georgian jail. We do not want to create a hero out of him. The situation has been stabilized here, we live well without him and if he arrives, there will be unrest."
The interior ministry flatly denies that such a conversation took place.
"Such a telephone conversation did not happen at all, neither with the Minister of Internal Affairs of Ukraine nor any other person. Generally, it isn't serious to suppose that the two ministers representing two countries are discussing important state issues through unprotected telephone communication," the ministry's public relations department representative was quoted by IPN as saying.
Meanwhile, the prankers insist that the conversation really occurred.
"This is not the first person who tries to refute a conversation with us. However, in such cases we have always handed the recordings over to independent agencies for examination, and they have always been verified. We have the personal mobile number of the minister. If necessary, we can provide it. I think all of his associates are familiar with the number," pranker Lexus told the radio station Govorit Moskva.
Few people in Georgia doubt the authenticity of the recording. The opposition demands the resignation of the minister. Government officials and Georgian Dream MPs rule out that the conversation is authenticity but many rank-and-file supporters of the ruling political party voiced their indignation about this 'treason'.
Mikheil Saakashvili is facing up to 11 years in prison for alleged abuse of powers, diverting public funds and forceful dispersion of a rally in 2007, the raid on the private TV station Imedi the same year, and the obstruction of the investigation into a young bank employee's murder.
Georgia has applied to Ukraine several times for Saakashvili's extradition, but the requests have been rejected.
The two bloggers are famous for mocking many politicians and famous people critical of the Kremlin's policies, such as US Senator John McCain, Ukraine's President Petro Poroshenko, Turkish President Recep Tayyip Erdogan, Ukraine's former PM Arseniy Yatsenyuk and NATO Secretary General Jens Stoltenberg.