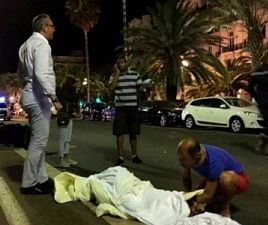 TBILISI, DFWatch–A Georgian citizen who went missing after the terrorist attack last Thursday in Nice was confirmed dead on Monday, Georgia's Ambassador to France Eka Siradze Delone told Interpressnews.
The Ministry of Foreign Affairs confirmed the death of Roman Ekmaliani, born in 1960. According to the ministry he worked in Belgium for the past several years. The ministry expressed condolences to the family of the dead.
Ekmaliani was married to a French woman who also died in the terror attack in which a Tunisian man drove a truck through a crowded promenade during the Bastille Day celebrations. The death toll so far stands at 84, while 202 are injured.
Four Georgians who were missing the day after the attack were later found safely at home.