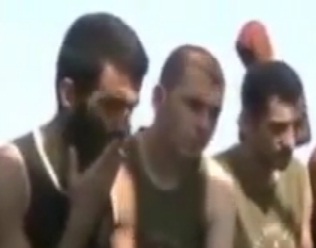 TBILISI, DFWatch – Fifteen Georgian sailors taken hostage by Somali pirates have been set free after 508 days of captivity.
According to Georgia's Marine Transport Agency, no ransom was paid. But pirates who spoke to the news service SomaliaReport.com said a three million dollar ransom was dropped onto the ship Sunday morning.
Right now, the fifteen are being given medical attention aboard a ship with armed guards under Georgian control which is sailing towards a harbor somewhere on the African coast.
The three Turkish hostages were also freed.
It was in September 2010 that the Malta-registered ship Olupel Aiji was taken over by pirates off the coast of Somalia.
A few months ago, the website SomaliaReport.com released a short video which appeared to show that the captured crew members were unharmed.
In yesterday news about the imminent release of the hostages, the Georgian government claimed it was the result of intense negotiations by Georgia's inter-agency commission under the auspices of president Mikheil Saakashvili.
Operative leader of the effort, deputy minister of economy and sustainable development, Giorgi Korbelashvili, said today that Georgia considered storming the ship six months ago, but scrapped the plan because it would endanger the lives of the hostages.
"Or small country did a big job. Hundreds of sailors are captured by pirates," Korbelashvili said.
But today, opposition party Georgia's Way says that it was not Georgia, but Turkey and the international community which have the lion's share in the effort to secure the release of the hostages.
"With the help of the national television stations, Saakashvili will appear as a liberator," party spokesman Mamuka Baliashvili said.
The Georgian sailors will return on January 16.