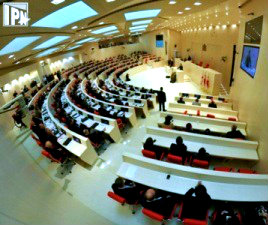 TBILISI, DFWatch–The Georgian parliament almost unanimously adopted a new constitution on Tuesday as opposition factions walked out and said the day will mark the establishment of one-party rule in the country.
At the third and final hearing, following a long and controversial hearing process, parliament passed the new constitution with 117 votes in favor and 2 votes against. It will enter into force right after the presidential election in the fall of 2018.
The main controversy concerns the introduction of a fully proportional election system in 2024 instead of 2020, which the opposition thinks will inevitably lead to ruling Georgian Dream maintaining its grip on power at least till 2024, because the current mixed system – half-proportional and half-majoritarian – favor it by a large margin. In the 2016 elections, Georgian Dream got 49 percent countrywide, but won 71 out of 73 seats that were up for single-mandate vote.
Factions representing two opposition parties, United National Movement and European Georgia, walked out of the session hall in the protest during the vote.
The third opposition faction, Patriots, also protested against the passage of the new constitution, but remained in their seats.
The new constitution also implies indirect election of president, but only after the 2018 elections, which will be held according to the current system, e.g. by direct nationwide vote.