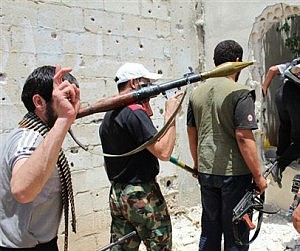 TBILISI, DFWatch–Georgia is to make it a crime to be a member of a terrorist organization or take part in a paramilitary group in another country.
The law was drafted after calls for the government to do more to stop the flow of youth joining the war in Syria.
Not only participation in paramilitary groups abroad will be punishable, but also making propaganda for them or work to recruit new fighters.
Locals in Georgia's Pankisi region have demonstrated for tougher measures to stop their young men from becoming fighters abroad and claim a group of recruiters is active in the valley, swaying boys as young as 16 to drop out of school to join Islamic State in Syria.
Also covered by the drafted new law, and thus illegal, is when someone attempts to leave the country in order to join such groups or organizations, which has happened recently with young men from the Pankisi valley, a predominantly ethnic Chechen part of Georgia bordering Russia.
A new article will be added to the Criminal Code and all Georgian citizens who participates in illegal paramilitary groups or organizations abroad or plan to train with such groups or recruit for them may be punished with from five to ten years in jail.
Calls and propaganda for such activity will be punished by up to two years in jail.
The government has approved the draft bill, which was prepared by the Interior Ministry, at a session on December 18, 2014.
The bill had its first reading in parliament on Wednesday.
The draft mostly concerns Georgian citizens who participates in the wars in Syria and Iraq.
Deputy Interior Minister Levan Izoria says Georgia's Criminal Code in the past punished terrorist activity and joining international terrorist organization, but what is taking place now in Syria and northern Iraq is mostly not covered by the 'classic' definition of terrorist organizations.
While some European countries have had the spotlight on their Syrian fighters, analyzing what drives youth leave the safety of their homes to become warriors for the Islamic State, relatively little is known about the Georgian fighters from Pankisi. What is known is that about a hundred have left and joined Islamic State in Syria or Iraq for the last two years. Eleven of those from Pankisi and three from the Adjara region have died so far.
April 2, two teenage boys dropped out of school in Pankisi and left for Syria; one of them only 16 years old.
Vakhtang Maisaia, Professor and terrorism analyst at at Georgian Institute of Public Affairs, says there doesn't exist exact figures but there are a few hundred Georgian citizens in the Syrian war and the fact that at least eleven youth from Pankisi have died indicates that the number of Georgians must be significant.
"There are several well-known field commanders from Pankisi, like Tarkhan Batirashvili, and not to mention Muslim Margoshvili, who is also from Pankisi, Paizula Margoshvili. Their authority influences young people in Pankisi."
This valley region has always been at the center of attention, he explains, but nobody knows how many people left from Adjara or from Kvemo Kartli. It is only known that three fighters from Adjara have died. No information is available about fighters originating in Kvemo Kartli.
Maisaia explains that there is a rotation principle in Islamic State, and after certain period, the fighters return to their home country.
"Those who return have missions and goals," he says. "It's a subject for law enforcement bodies to determine what ideas and plans those who return have."
Maisaia is unable to say how effective it will be to adopt this new law right now, but it would have been better if it had been done at the preventive stage.
"We missed the prevention level. Now we are at the stage of operative reaction. I hope the law will change things, but it would have been better to adopt it a year or two earlier."
Irakli Sesiashvili, a member of parliament for the Georgian Dream coalition and chair the parliament's defense and security committee, says that the bill has two goals: If a person commits a crime, he or she must be held responsible and the public should know what actions are incorrect and punishable, in other words, what the state recognizes as a crime.
If someone goes to join a paramilitary group, that person must know it will be difficult to come back, as they will be held responsible.
"Some go there for economic goals, get money and get back." Sesiashvili says adding that the law can prevent at least those who go with such goal. But he also says that this new law cannot concern those who already returned back to Pankisi as it doesn't have the reverse power. Sesiashvii claims 2-3 tens of Georgians are in Syria, but cannot say how many returned.
"Intelligence services observe those who returned back and control them, of course."
Nugzar Tsiklauri, MP from National Movement, says no one can be against this new restriction, but he says problem of Georgia is not legislation but enforcement of law. But he thinks it is alarming if there are really people who return back to Georgia from ISIS and are free to move and live here.
He says when ISIS members come back to Georgia they recruit people, pupils and help them illegally cross border.
"But the law cannot radically change the situation. Situation can be changed by the will of government."