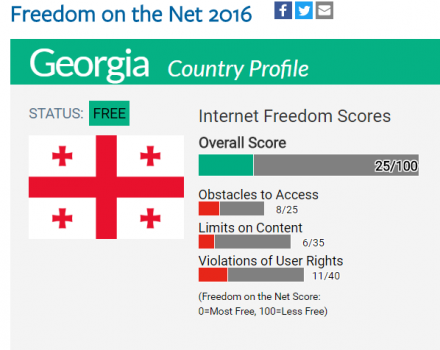 Tbilisi, DFWatch – Internet freedom across the globe declined for a sixth constructive year and two-thirds of the world's internet users live in countries where authorities resort to censorship. However, Georgia has improved its position and has ranked as a free country according to a report released on Tuesday by Freedom House, a US government-funded pro-democracy NGO.
The report from Freedom House, a think tank, finds that
Georgia's internet freedom score improved by one point, to 25, the same as of Italy.
The Net 2016 report highlighted that although online censorship is rare in Georgia, the government briefly blocked access to WordPress and YouTube in two separate incidents within the coverage period.
In November 2015, the State Security Service blocked the entire WordPress platform for a short period in an attempt to restrict access to a website hosted by WordPress which was disseminating videos by a pro-ISIS group.  In a separate incident, YouTube was blocked twice by authorities following the release of sex videos depicting Georgian politicians.
"Aside from these isolated incidents, government blocking and filtering is not a major hindrance to internet freedom in Georgia," the report reads.