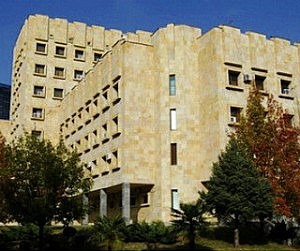 TBILISI, DFWatch–The Georgian Prosecutor's Office has indicted two South Ossetian officials for involvement in the abduction and torture of a Georgian former soldier in Akhalgori, an enclave under control of the breakaway region.
Davit Gurtsiev, the head of de facto security body in Akhalgori, and Alik Taboev, deputy de facto prosecutor in the same district, were indicted in absentia for abducting and aiding in the torture of Archil Tatunashvili, a former soldier and veteran of the multinational forces in Iraq.
The two are accused of illegally detaining Tatunashvili and two other ethnic Georgians after learning that the former was a member of Georgian military during the 2008 Russo-Georgian war.
"The conducted investigation determined that citizen of Georgia Archil Tatunashvili periodically went to the occupied Akhalgori district where he was engaged in the small entrepreneurial activity. On 20 February 2018, after the leaving of the above-mentioned territory, it became known for so-called Law enforcement officers of Occupied Tskhinvali region that Archil Tatunashvili served in the Georgian Armed Forces in August 2008, so they decided to punish and torture him," the Prosecutor's Office said in a statement.
"On 22 February 2018, citizens of Georgia Archil Tatunashvili, I.P., and L.K. entered the occupied territory of Akhalgori […] where they transported the fruit-vegetables by the car. The above-mentioned circumstance became known to the so-called Law enforcement officers of Occupied Tskhinvali region, who decided to illegally deprive Archil Tatunashvili of liberty, to bring him to the favorable location and torture him.
"In order to accomplish the goal, on 22 February 2018, near the village Mosabruni in Akhalgori district, the Deputy Prosecutor of the so called Prosecutor's Office of Akhalgori David Gurtsiev and the head of division of the so called KGB service Alik Taboev, and other employees of so called Law enforcement officers of Occupied Tskhinvali region, in group, illegally deprived them of liberty and at first they transferred Archil Tatunashvili, and later- I.P. and L.K. to the so called Security Service Building, where Archil Tatunashvili was handcuffed and handed over to so-called Law enforcement armed officers of Occupied Tskhinvali region in order to torture him, who brought him to Tskhinvali.
"In the building of the so call Prosecutor Office the Law enforcement officers of Occupied Tskhinvali region, tortured Archil Tatunashvili for participation in the August war in 2008, they inflicted to him more than 100 different types of injuries. Later Archil Tatunashvili passed away," the statement reads.