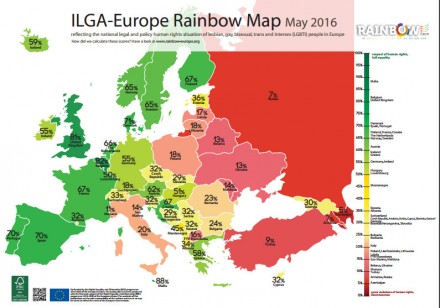 TBILISI, DFWatch–The human rights of gays, lesbians and other sexual minorities are being less protected in Georgia, according to the organization ILGA, which monitors the situation internationally.
International Lesbian, Gay, Bisexual, Trans and Intersex Association (ILGA Europe) ranks countries in terms of how well they protect the human rights of sexual minorities. In its latest ranking list, Georgia's rank worsened to 30th among 49 states, while last year Georgia was in 22nd place.
The organization's latest report, Rainbow Europe 2016, which describes the situation in 2015, states that the biggest challenges in Georgia are the safety of LGBT activists, hate speech and threatening statements.
The report refers to politicians who engage in hate speech against LGBT activists and the LGBT community.
"The parliament's deputy speaker Manana Kobakhidze (Georgian Dream – Democratic Georgia) commented on Facebook that "Even if we are left alone in this world, if all of our friends, partners or allies turn away from us, I will still say that legalising same-sex marriage is a big mistake," the report recalls. Kobakhidze was responding to the news that same-sex marriage had been legalized in all U.S. states in June.
"Similar remarks were made by Patriarch Ilia II during his sermon at Tbilisi's Holy Trinity Cathedral. Then Prime Minister Irakli Garibashvili (Georgian Dream – Democratic Georgia) stated that '…I, as a prime minister and citizen of Georgia, will do everything for adopting the record in the constitution that marriage and family is the union of woman and man!' in an interview with the Asaval Dasavali newspaper."
The report also focuses on a decision by the European Court of Human Rights in Strasbourg in 2015 that Georgian police failed to carry out their duty on May 17, 2012, and should have protected activists for IDAHOT – International Day against Homophobia and Transphobia.
"The Court acknowledged for the first time that a bias-motivated attack on a peaceful protest contravened Article 3 of the Convention," it says.
ILGA Europe describes cases of LGBT activists being attacked and threatened, as well as the murder of transgender woman Sabi Beriani and the fact that the person who was charged in this case was sentenced to only four years in jail.
"A man was acquitted of the murder in November 2014 of a Georgian trans woman. On 7 August, Levan Kochlashvili was sentenced to four years imprisonment for assaulting a second trans woman on the same evening as the murder and for arson offences."
Malta, Belgium and the U.K. are at the top of ILGA Europe's list over how well human rights are protected, while Turkey, Armenia, Russia and Azerbaijan are at bottom of the list.
In the ranking, Georgia scored better than Lithuania, Latvia, Poland, Italy, Romania and Bulgaria.