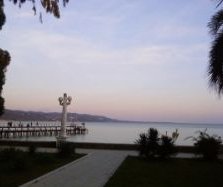 TBILISI, DFWatch–Georgia's Ministry of Foreign Affairs denies reports in Abkhazian media that representatives of a German company visited the region.
Media outlets in Sukhumi reported that representatives of an unspecified German company met with the de facto leaders of Abkhazia.
Deputy Foreign Minister Davit Kereselidze on Monday denied the veracity of these reports.
"What we know is that people who were there are ethnic Germans and one of them owns a company registered in Saint Petersburg with two Russian partners. This is not a Germany company," he said.
Kereselidze believes it is form of PR and aggravated advertising in Abkhazian media that German companies visited the region.