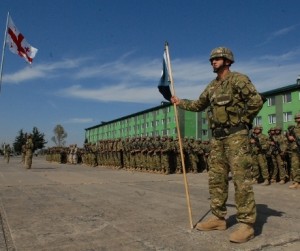 TBILISI, DFWatch–The Georgian parliament on Tuesday started reviewing a proposal to abolish compulsory military service and move to a professional military based on contracts.
The goal of the bill is to redirect finances spent for compulsory military service into an improved professional army and increasing Georgia's defense capability.
It was proposed by the National Movement. MP Zurab Japaridze submitted the draft on July 23 and on Tuesday, the human rights committee and the civic integration committee started discussing the proposal.
The explanatory note says that in case of war, every citizen will be obliged to fulfill military duty, but there will only be a professional military service.
This means that the offices known as Comissariats which register and recall citizens for compulsory service, would be cancelled.
The author of the bill also describes its drawbacks: If a person wants to delay his service, he has to pay a fee, but after the proposed amendments, there will not be such a fee. In 2014, such payments amounted to 1,376,603 laris, according to Japaridze.
On the other hand, money will be saved which is now being spent on registration, medical inspection and other things associated with the compulsory system.
It is a common practice in Georgia that boys continue studying in order to avoid military service, often starting bachelor's degree right after school, then do their MA or even PhD in order to avoid having to join the military. Others try to lose weight or in other ways fail the medical exam.
The bill now has to go through all the parliamentary committees before the parliament will discuss it at hearings.