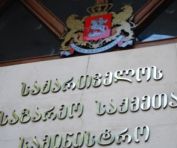 TBILISI, DFWatch–Georgia has appointed new ambassadors to India, Slovenia, Vatican and Kuwait.
From May 1, Georgia's ambassador to Slovenia will be Zurab Bekaia, Tamar Grdzelidze will be ambassador to Vatican from June 1, 2014, Roland Beridze will be ambassador of Kuwait from June 2, 2014 and Levan Nizharadze, became ambassador to India from April 3, 2014, according to a decree by President Giorgi Margvelashvili.
Bekaia has prior diplomatic experience in Cyprus representing Georgia, according to the Ministry of Foreign Affairs. He has also worked at different posts in the Foreign Ministry.
Grdzelidze worked at the World Council of Churches in Geneva from 2001 to 2014.
Beridze has been Georgian consul in the US, Canada and Mexico and worked in different positions at the Foreign Ministry.