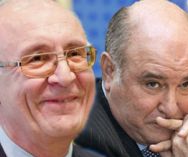 TBILISI, DFWatch–The two countries, which were at war with each other eight years ago, both expressed interest in continuing a pragmatic course in order to normalize relations, according to a statement put out by the Russian Ministry of Foreign Affairs (MFA).
The document is a summary of a recent meeting in Prague between the Georgian special envoy Zurab Abashidze and Gregory Karasin, Russia's deputy foreign minister.
The Russian MFA statement continues pointing out that certain steps have already been taken toward normalizing relations. For instance, Russia will soon send Georgia an archive of Georgian films produced during the Soviet Union. Also, Russia is considering simplifying visa rules for plane crews, and in fall a group of investors will visit Georgia.
Diplomatic links were severed after the 2008 war, but the current Georgian government has been steadily improving relations since coming to power in 2012.
"Russia is continuing to be Georgia's second most important trade partner and the main market for its wine products. In the current year, the supply of Georgian wine to Russia increased by 36%," the statement reads.
Russia's MFA also writes that in the first three quarters of 2016 there was a 17% growth in the volume of bilateral trade .
The ministry believes that the upcoming business forum in Tbilisi will encourage the strengthening of economic relations between the two states.
Preparations are also underway to allow Georgian citizens visa-free entry to Russia. Demand for such visas in Georgia remains high, while on the other hand, a forecast indicates that Georgia will host more than one million people from Russia this year – a record number so far.
"The progress achieved over the last four years of normalization of bilateral relations is encouraging," Russia's Foreign Ministry concludes.
The next Abashidze-Karasin meeting will be held in the beginning of 2017.