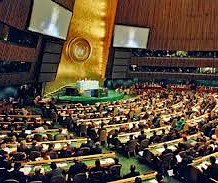 TBILISI, DFWatch–Georgia was among 21 countries that were absent during a vote in the UN General Assembly on Thursday to annul the US's unilateral recognition of Jerusalem as Israel's capital.
"We […] have had consultations with our partners and our delegation did not participate in the vote due to the sensitivity of the issue," Georgia's Foreign Minister Mikheil Janelidze explained.
The resolution was approved by 128 states, with 35 abstaining and nine voting against. Moreover, 21 countries didn't participate in the vote at all.
Many close US allies, such as Poland, Canada, Australia, Latvia and Hungary, abstained. As a clear slap in the face of US President Donald Trump, many of America's friends voted in favor, including most European countries, such as France, Germany, Italy, Spain, Netherlands, Belgium, Ireland, Switzerland and even the UK.
The 193-member Assembly expressed "deep regret" over recent decisions concerning the status of Jerusalem and stressed that the Holy City "is a final status issue to be resolved through negotiations in line with relevant UN resolutions."
The resolution effectively states that the decision by the Trump Administration regarding the Holy City "[has] no legal effect, [is] null and void and must be rescinded".
However, the UN General Assembly resolution is non-binding. A binding resolution with the same text in was vetoed by the US when it was tabled in the UN Security Council.
Writing on Twitter, US ambassador to the UN Nikki Haley later expressed gratitude to those countries, including Georgia, which didn't vote in favor of the resolution.
"We appreciate these countries for not falling to the irresponsible ways of the @UN," she wrote.
We appreciate these countries for not falling to the irresponsible ways of the @UN: pic.twitter.com/a0hUTepD8H

— Nikki Haley (@nikkihaley) December 21, 2017