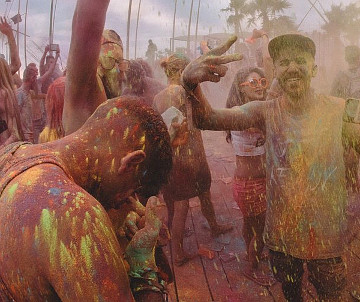 TBILISI, DFWatch–GEM Fest may be canceled this year, after an agency of the Georgian government denied the festival a permit to rent a land plot.
The fate of the annual electronic music festival, which is popular among youth in Georgia and neighboring countries, was thrown into doubt because the The National Agency of State Property (NASP) rejected an application from organizers to rent a plot in Anaklia, a Black Sea resort near the administrative boundary line with breakaway Abkhazia.
A spokesperson for NASP, an agency subordinate to the Ministry of Economy and Sustainable Development, offered few details beyond stating that GEM Fest organizers claimed in their written application that most tickets for the events had already been sold. This took place without prior consent from authorities, she added.
NASP spokesperson Eka Sisauri emphasized that the state plans to launch several events in Anaklia within the frames of the project Check in Georgia, a series of state-sponsored sports and cultural events aimed at attracting more tourists to Georgia.
GEM Fest has constantly been criticized for failing to control the selling of MDMA and other drugs during its events. In August 2017, during last GEM Fest, a 22 year old female bank employee died after allegedly ingesting the drug 'bio'. Over a dozen young GEM Fest visitors were hospitalized during the last festival and at least five were detained for drug-related crime. Since then, organizers have stepped up anti-drug measures and pledged that they are in control of the problem.
GEM Fest 2018 is scheduled for August 9-12.