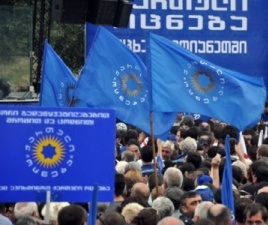 TBILISI, DFWatch–The ruling Georgian Dream announces its party list for Oct. 2, 2016 parliamentary elections, featuring mostly 'new faces' on its top and leaving many of its prominent members behind.
The list is headed by Giorgi Kvirikashvili, current PM
and nominal leader of the party whose full title spells as Georgian Dream – Democratic Georgia. He is followed by Kakhi Kaladze, first deputy PM and Irakli Kobakhidze, party's executive director.
They are followed by GYLA ex-chairwoman, Tamar Chugoshvili, and several other persons with no prominence neither during GD's opposition activities in 2011-12, nor in its activities as a ruling political power.
Leaders of GD faction at the parliament – Manana Kibakhidze, Eka Beselia and Zviad Kvachantiradze – are relegated to 12th, 13th and 14th position respectively.
Others found their places even below, especially those who are majoritarian candidates in various districts. For example, Giorgi Volski, the unofficial speaker of the party during political debates, gets 68th position.
67th position is held by former wrestler and current MP, Shota Khabareli, 69th is Zaza Papuashvili, popular film and theatrical actor and vocal supporter of the GD since its establishment. Other notable members are even further down in the list, as Irakli Sesiashvili (81th), Zakaria Kutsnashvili (91st), and Gedevan Popkhadze (98th). That means if they lose in their majoritarian districts, they won't be in the next parliament.