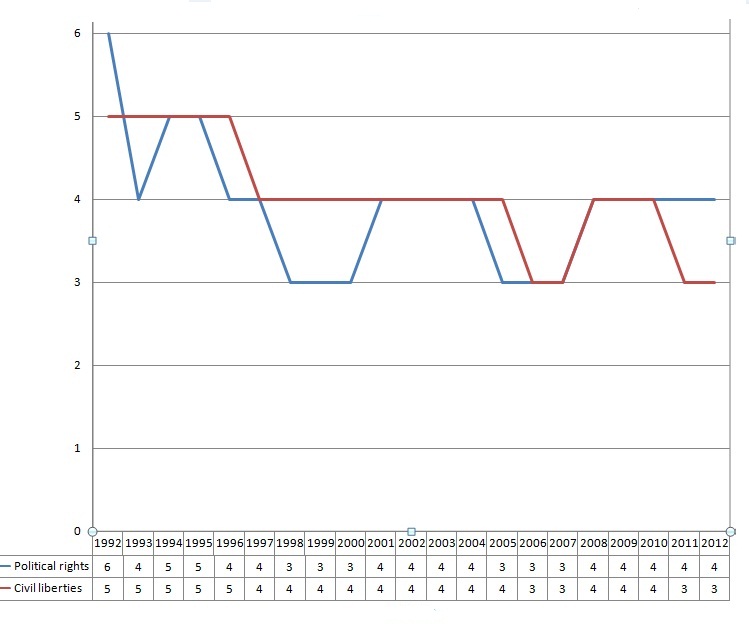 TBILISI, DFWatch – American human rights group Freedom House indicates that Georgian democracy has not recovered from the backlash, but remains at a comparable level to right after independence.
Seen overall, the trend is that democracy is improving, but in the wake of the turbulence which Georgia experienced a few years ago it is still on the same level as in 1993 when it comes to the indicator for political rights.
In terms of how citizens are able to participate through elections, Freedom House gives Georgia a 4, the same rating as last year in terms of democracy.
The scale goes from 1 to 7, with 1 being the best score.
Overall, Georgia is among the 60 countries (31%) out of 195 surveyed that are categorized as partly free.
The country is not considered an electoral democracy by the organization, which is influential in setting the agenda for debate about democracy building internationally.
Georgia has been considered an electoral democracy through most of its time since independence in 1991, but lost the status briefly in 2004, then it regained it after the Rose Revolution, but in the wake of political unheaval about four years later, and a snap election in 2008 which international observers said had significant irregularities, Freedom House has no longer considered Georgia an electoral democracy since 2009 until today.
In terms of political rights, the country had two good periods: one in the late 1990s under president Eduard Shevardnadze, and another in the first years after the 2003 revolution under president Mikheil Saakashvili. But in recent years, Georgia has slipped back and is now on the same level as in 1993.
Freedom House explains the lack of progress with the way opposition politicians have been experiencing difficulties:
"In Georgia, President Mikheil Saakashvili continued to face criticism for his apparent efforts to marginalize potential opposition figures," writes the report's authors.
But in the civil liberties area there is a clear improvement compared to the time right after independence in 1991. in 2012, Georgia receives a 3, the same as last year. The first time the country achieved such a level was in 2006.
As a main topic, the authors focus on the Arab spring, which they consider the greatest challenge to authoritarian rule since the collapse of Soviet communism. They say the wave of popular uprisings have brought hope to people around the world who live under oppressive governments.
In 2011, 87 countries were designated "free" — the same number as in 2010 — representing 43 percent of the world's population.