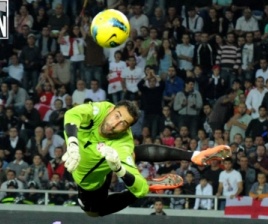 TBILISI, DFWatch–Georgia played 0-0 against France in a 2014 FIFA World Cup qualification match Friday.
The teams met at Dinamo Stadium in Tbilisi. Goalkeeper Giorgi Loria successfully blocked what could have been a goal, and the game ended in a draw.
"I am proud that the boys played such a game," Georgian coach Temur Ketsbaia said.
"It is pleasant that we played so well against the French team, which is full of such players."
March 22, Georgia met France at Stade de France, Saint-Denis, and lost 3-1.
September 10, Georgia will play against Finland in Tbilisi. The Finnish team was defeated by Spain 0-2 on Friday in Helsinki. Finland and Georgia played a draw on October 12 in Helsinki.
Georgia's team is in Group 1, where Spain is in the lead with 14 points, followed by France with 11 points, Finland with six points, Georgia with five points and Belarus with four points.