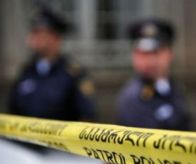 TBILISI, DFWatch–A former European wrestling champion was shot dead in Georgia's eastern Kakheti region Monday evening.
According to the Ministry of Internal Affairs (MIA), Nodar Modebadze (66) was shot with a rifle in the village Akura.
Police have a suspect and are conducting a search. Preliminary information indicates that the motive was a personal conflict.
Modebadze won the 1973 European wrestling championship. He also won the world cup in freestyle wrestling and became a champion of the USSR. He was a member of the presidio of Georgia's Wrestling Federation.
In 1999, he was elected to the Georgian parliament, representing the Sakartvelos Aghordzineba (Revival of Georgia) bloc, a seat he held until 2004.
Modebadze was a shareholder in a winery in the village Akura. Former Interior Minister Vano Merabishvili and former Prosecutor General Zurab Adeishvili are charged with appropriation of Modebadze's property.
Local journalists report that Modebadze had a conflict with a local shepherd in Akura, whose cattle strayed into Modebadze's vineyard several times.
The case is being investigated as premeditated murder, defined in article 108 of the Criminal Code.