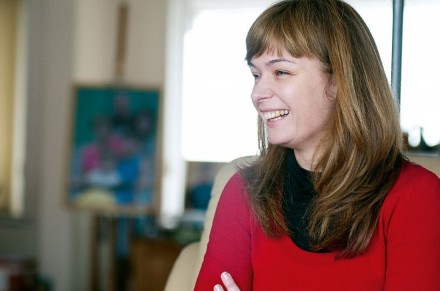 TBILISI, DFWatch–Georgia's former first lady Sandra Roelofs is a candidate for parliament for her husband's National Movement party for Zugdidi election district in the west of Georgia.
Unlike her husband, Roelofs is not wanted by Georgian law enforcement, and on Friday she met with the population in the village Kortskheli.
For a month, local media have been reporting that Roelofs would be a candidate of UNM in Zugdidi but the neither she nor the party itself has confirmed it until today.
Thursday, Roelofs told Rustavi 2 that the candidate of Zugdidi has not been known until now.
"This is the fourth year I am not a first lady and I am following events in Georgia from beside Misha [Mikheil Saakashvili] who hasn't been in the country. Then who interfered with them? If they didn't want to continue nice projects, at least they could do their own projects. What was done? I cannot see anything. The situation is worse in the country, stagnation, poverty and I feel sorry," she said during her speech in Kortskheli.
As wife of former President Saakashvili, Roelofs is likely aware of the intense hatred the UNM party evoked among the population during its last years in power due in large part to the brutal treatment of its opponents. Efforts to contain the scandals by bombarding the population with upbeat TV news about the regime's achievements failed to impress voters in 2012, but as Georgians' memory is fading, Roelofs hopes they may be ready to support her husband's party again, despite their bad experience.
"I spoke with Misha often, telling him that I had to know, when I look into his eyes, I had to be sure that the bad things, which happened, won't be repeated. Trust me, I wouldn't be here if I wasn't sure that we won't repeat the violence."
UNM members Davit Bakradze and Nika Melia attended her speech.
Georgian Dream MP Zakaria Kutsnashvili says that introducing Roelofs as a candidate indicates that UNM 'are short of staff' and searching for candidates in their families.
Irakli Sesiashvili, head of the defense and security committee in parliament, told Interpressnews that Saakashvili took this step in order to create the illusion that he 'remains with the UNM', but he says that in reality Saakashvili is offering people his new project, the Burchuladze-Vashadze-Japaridze-Katsitadze bloc.
May 22, there was conflict in Kortskheli during the by-election for the local municipality. Supporters of Georgian Dream clashed with members of UNM. Five people accused in the incident were fined 7,000 laris, while one of them, Vladimer Gegeshidze, a member of Georgia's national wrestling team, was fined 10,000 laris.