TBILISI, DFWatch–Georgia's government has decided not to sell a stately building in the center of Tbilisi that was meant to be a presidential residence and once served as the US embassy.
The building on Atoneli Street near Freedom Square was on a list of the state-owned properties that were going to be privatized in the wake of a rapid drop in the value of the national currency lari.
Instead, a government body will move in there, but yet it is not known, which one.
In 2013, a set of constitutional amendments came into force that reducing the power of the president. At first, it was thought that with less power, the president would not need to use the enormous Avlabari residence constructed by the previous president, Mikheil Saakashvili. Instead, the president's administration would be located at the former US embassy building after refurbishing.
But Giorgi Margvelashvili decided to start using Saakashvili's Avlabari residence. Before becoming president, Margvelashvili used to criticize the residence in Avlabari, saying that he wouldn't use it. For two months after his inauguration, he didn't, but instead settled into two rooms at the government office.
Then he changed his mind and said that the two rooms were too awkward to carry out the diplomatic protocol and moved into the residence in Avlabari. This decision angered former Prime Minister Bidzina Ivanishvili, the one who selected Margvelashvili as a candidate for president, and he has continued to criticize him ever since.
Margvelashvili has used the Avlabari residence for his office until now. The residence on Atoneli Street one months ago made it to the list of privatization objects of government, which was part of a plan to overcome the economic crisis.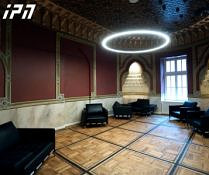 But yesterday Ekaterine Sisauri, head of the National Agency of State Property, told journalists that the Atoneli residence was refurbished as a residence of a high official, and this is why no-one expressed interest in purchasing it.
"It would be too difficult to make the building suitable for commercial purposes," she said. "Probably it will be hard to sell it and so it will be used by one of the government bodies."
She didn't specify which one.
Economy Minister Giorgi Kvirikashvili recently mentioned in parliament that the Foreign Ministry will likely move into the Atoneli residence. The ministry has not yet commented.