TBILISI, DFWatch–Oasis Music Festival was held this weekend in Mtskheta, not far from the capital, with well-known bands like WhoMadeWho, Mumiy Troll and Motorama.
The festival lasted two days and was held at Theatron, an area between the old castle and the River Aragvi. There there were installed two stages, a main stage for headliner bands and another for warm-up bands and electronic music at night.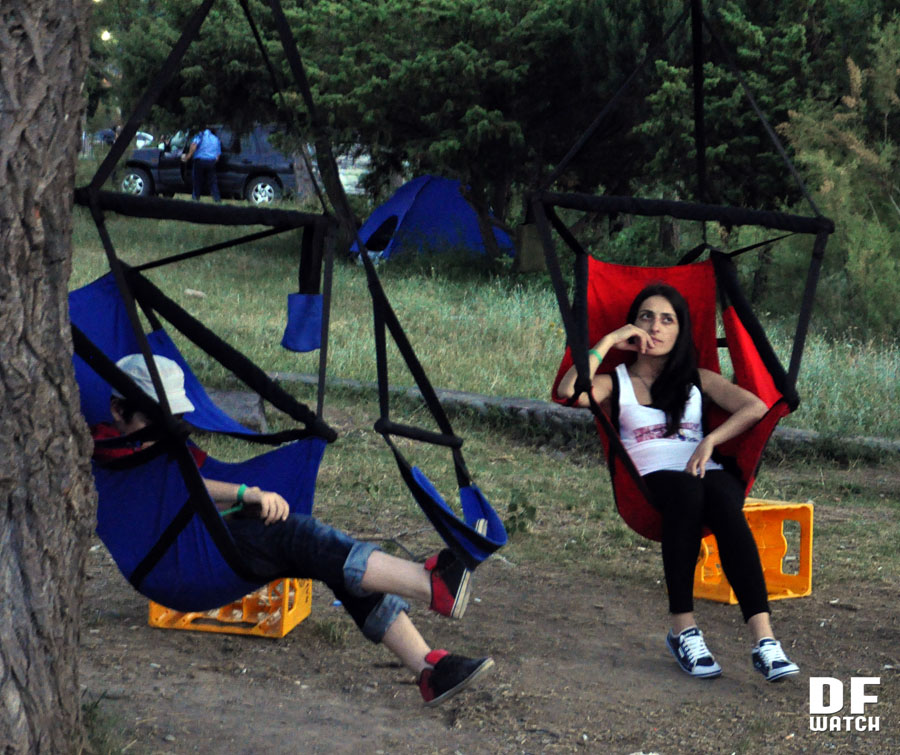 "The first time I happened to visit Theatron it turned out to be a real oasis. It was clear at once that the location perfectly suits our recent idea of making a classy European festival close to the capital of Georgia," the festival's director Kirill Khimichev explained earlier.
The Russian group Mumiy Troll was the main headliner of the festival and was last to perform on Sunday night.
The festival offered entertainment for people of all ages, as there were organized playing fields for children, different workshops, volleyball and football fields. A space was allocated for camping, which was almost full of tents for two days.
For all of Saturday and Sunday people were playing different games while the bands were performing. It was prohibited to bring food to the festival area, where there was sold some hotdog, sandwiches, Georgian traditional food and drinks.
Handicraft, t-shirts with Oasis graphics on it, some toys for kids and snacks were sold in the field.
The Jetbird from Georgia opened Saturday night's concert. Loudspeakers, a popular band from Georgia, Jahcoozi, Motorama of Russia and Danish WhoMadeWho performed on first day on the main stage. From 2:00 in the morning people moved to the acoustic stage to dance until morning.
The next day Max and Nick Machaidze, Mebo Nutsibidze and other musicians from Georgia warmed up people during the day, while at night the Balloon Shooters also from Georgia opened the concert, followed by the Zigzag&co, Dzierzinski Bitz, Sunsay, Salio and Mumiy Troll closed the concert.
Organizers say the festival will be held next year as well and promise that it will be much different, but will again be held in Mtskheta.
There were sold 5 000 tickets for Saturday, out of about 8 000 available.
Most of the guests rated the festival as one of the best that has been held in Georgia.
"I never thought I could be at such kind of festival in Georgia," Luka, 22, says, while Toma, 22, says he is always critical to musical events in Georgia, but Oasis was 'really cool.'
The main complaint was directed at the police and guards, who took about 60 people suspecting them of smoking marijuana or some other light drugs and took them for examination. There were a few scuffles among drunk men during the event.
"Except the fact that police without any reasons was taking people to examine for drugs, I liked the festival, which was really awesome," Dato, 26, told us on Sunday night, "I also think that Saturday was much better than today; however I enjoyed SunSay's performance today. WhoMadeWho and Motorama made my day yesterday."