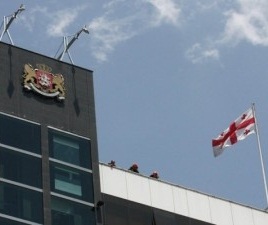 TBILISI, DFWatch–Tbilisi city court on Saturday turned down a plea from five Defense Ministry officials who asked to be released on bail.
The defense team of the five officials who were detained in late October and charged with embezzlement of about USD 2.3 million of public funds filed another motion in court to change the pre-trial detention into bail.
The motion was backed by a statement of support from dozens of famous Georgians, including politicians, musicians, film directors, poets and other popular persons, who asked the prosecutors to let the five out of prison.
The attorney told journalists that they would appeal the decision to the appeals court.
The decision came as a surprise as even some members of the ruling coalition expressed their wish to see the five released. For example the same day when popular figures issued a plea, Irakli Sesiashvili, a chair of the parliament's defense and security committee and GD's commentator on defense issues, said he hoped that eventually the detainees would been released on bail.
Alexi Petriashvili, former European Integration Minister and a member of former defense minister, Irakli Alasania political team, reiterated that the detained defense officials are absolutely innocent and called them 'hostages' that are being used to 'blackmail' the former defense minister, Irakli Alasani.
"These people are victims of a well-planned operation of taking hostages in order to blackmail Irakli Alasania. It is a political struggle against Alasania," Petriashvili said on Sunday in the popular talk show Imedis Kvira (Sunday on Imedi TV).