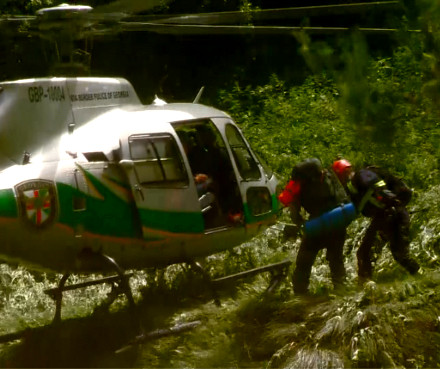 TBILISI, DFWatch–Five foreign tourists were rescued by helicopter from a mountain plateau in the main Caucasus range Saturday after being isolated by a flooded stream.
Personnel from the Emergency Management Agency used helicopters belonging to the border police to bring the tourists to safety in the village Barisakho, the Ministry of Internal Affairs reports.
Four other tourist were found along with the five who were reported missing. The four had gotten lost as they were unable to find their way back to camp. All of them are now in safety, MIA states.
The five who were rescued last were a part of group of 17 foreigners. Altogether, 80 tourists have been evacuated from the flood affected area in Shatili Gorge in the Khevsureti region of Georgia.
Shatili Gorge is one of the highest and most scenic places in the Central Caucasus. An ancient settlement and bastion also called Shatili is located nearby. Despite the lack of convenient roads, Khevsureti is a destination for many tourists, especially those hankering extreme hiking.