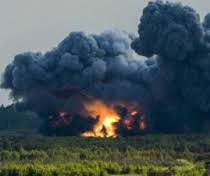 TBILISI, DFWatch–An explosion in eastern Turkey on Monday damaged part of the Baku–Tbilisi–Erzurum pipeline, which carries gas from the Shah Deniz field in Azerbaijan and runs through Georgia.
The cause of the explosion, which happened in Kars province, is unknown. The governor of the province Gunay Ozdemir told the news agency Anadolu that an investigation has been launched.
Azerbaijani media writes that the fire was soon put out and repair work is already in progress.
Anadolu reported that gas flow was cut off in the village Yagbasan, due to safety concerns.
However, Azernews reported that there was virtually no gas in the pipeline, since supplies were cut off August 2 due to maintenance work on a platform in Azerbaijan's Shah Deniz gas field.
Although the reason for the explosion is unknown, some are already looking for answers. Energy Minister Taner Yıldız released a statement saying that the gas flow through the pipeline had been stopped after sabotage by the Kurdistan Workers' Party (PKK) early on August 4, Reuters reported.
Turkey's state pipeline company, Botas, began repair work on the damaged section of the pipeline, Trend.az reported.
Mariam Valishvili, Georgia's Deputy Energy Minister, told Interpressnews that the explosion on the pipeline would not affect gas supplies to Georgia. Repair work will continue until August 22, she added.
The South Caucasus gas pipeline runs parallel to the Baku-Tbilisi-Ceyhan pipeline, which carries oil.