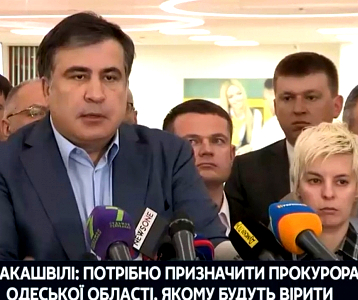 TBILISI, DFWatch–Georgia's former president Mikheil Saakashvili, who recently resigned as governor of Ukraine's Odessa region, blasts members of the National Movement for bowing to the ruling Georgian Dream (GD) party.
On Wednesday, in a video interview with the UNM-affiliated youth group 'Free Zone', Saakashvili railed against his fellow party members for participating in the second round of the elections and for accepting the results of those elections.
He insisted that the elections were rigged by former Prime Minister Bidzina Ivanishvili, a billionaire who created GD. Although Ivanishvili himself stepped down three years ago, there is a widespread belief that he is controlling the government from a position of influence built through many years as a philanthropist, including supporting the Rose Revolution in 2003, which brought Saakashvili to power.
"Ivanishvili rigged the election and we easily gave up and got used to it, instead of fighting against it and protecting our votes," Saakashvili said.
"They are behaving as if they are against their supporters, toward people who were dedicated to us making it into parliament. They have problems; not with me, but with their 600,000 supporters. Those who failed in the past don't have a future, and I wouldn't wish to have something common with them," Saakashvili said.
He didn't name names, but it is clear that he meant a group within the UNM leadership led by Giga Bokeria, UNM foreign relations secretary. The infighting between two fractions inside the former ruling party, one supporting Saakashvili and the second led by the 'new faces' who want fundamental changes in the party, has been on the rise since UNM's sound defeat in the elections in October.
The debate was fuelled by a letter published from prison by former Tbilisi Mayor Gigi Ugulava, in which he asks the party to elect a new leader to replace Saakashvili.
MP Gigi Tsereteli said recently that this conflict would be settled at the party conference in December.