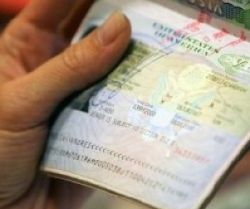 TBILISI, DFWatch–The European Union on Thursday finally agreed on a visa waiver suspension mechanism, the last obstacle to the long-awaited visa free travel scheme to go into effect for Georgian and Ukrainian nationals.
On December 7, the EU's three governing bodies, the European Council, Parliament and Commission, agreed on a system for national governments to suspend the visa waiver program under certain conditions. EU countries agreed earlier this year in principle to give Georgians and Ukrainians visa-free access to the bloc, but disagreement over the so-called emergency brakes has delayed the decision.
EU foreign policy chief Frederica Mogherini tweeted, "Visa suspension mechanism agreed. Fully committed on the last mile towards visa free for Georgia and Ukraine citizens."
Georgia's Prime Minister Giorgi Kvirikashvili called it a 'great achievement' for the country.
"Today, more than ever, I am not only optimistic but also convinced that great success awaits us," Kvirikashvili said.
Elene Khoshtaria from the National Movement emphasized that although Georgia has reason to celebrate, this is also a time to think thoroughly about future of the country and the government should explain clearly to its citizens the responsibilities that visa-free travel carries with it.
"The road ahead is not easy. We must understand the responsibilities visa-free travel is imposing on us. Now we should work intensively to enhance our European values and democratic institutions," Khoshtaria said.
The visa waiver scheme is expected to be approved next week by the European Parliament and the national governments of Georgia and Ukraine.
Citizens of countries that are included in the EU's visa waiver program may visit the Schengen area, without obtaining a visa first, for up to 90 days during a 180 day period. This covers both tourism and business travel. The visa waiver scheme does not give a right to work during the stay.