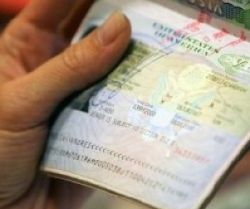 Tbilisi, DFWatch – On Wednesday, European Union once again failed to agree on waiving visas for Georgian citizens within the Schengen zone, Reuters reported.
Last minute objection from Germany, with French and Belgian backing, was reported the reason behind putting the process on hold.
'We don't want to stop the whole process. We just want to be more cautious', a diplomat from one EU state that on Wednesday opposed granting visa-free travel to Georgia told Reuters.
Georgia is struggling for visa liberalisation together with Ukraine and Turkey and it might be so that Ukraine's technical shortcomings as well as political aspects of Turkey-EU deal on migration are contributing factors to the stalled process. Some commentators point out that EU might be weary of letting Georgia in front of Ukraine, as well as that EU might be using the situation to gain leverage in negotiations with Turkey.
'It's a little bit childish to say that we are hostage of the political circumstances, because these are the ones that dictate decisions and we understand this', Georgia's EU Ambassador Natalie Sabanadze told Reuters.
'But I do say that we feel that we have fulfilled our part of the bargain and now it's up to the EU to deliver… The question now becomes political, it's a matter of taking a political decision.'
Germany also reportedly pointed out Georgia's shortcomings in fighting organised crime. Georgian gangs are notorious for operating in several Western European countries, including Germany.
On 31 May, the prime minister Giorgi Kvirikashvili declared that the French president François Hollande fully supported Georgia in the visa liberalisation process.
The foreign minister of Bulgaria, Daniel Mitov and the president of Slovakia, Andrej Kiska have both recently supported Georgia in the issue.