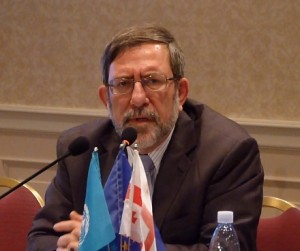 TBILISI, DFWatch – In a new report, the EU Commission criticizes Georgia's government for the police brutality on May 26, 2011.
The criticism comes as the Commission is taking stock of how well each country has performed in 2011 under a democracy building arrangement called the European Neighborhood Policy.
It says about May 26 2011, when police violently dispersed an anti-governmental demonstration, beating people and violating the rights of journalists, resulting in at least four deaths:
"Police intervention involved the excessive use of force and unjustified attacks on accredited journalists covering the events. In the aftermath, there were abuses of the rights of detainees."
EU Ambassador to Georgia Philip Dimitrov yesterday presented the report to media focusing on the part of report which describes the situation in Georgia.
The document gives recommendations to Georgian government about how to develop the country. It also briefly describes progress that has been achieved and concerns in different areas like media, elections, conflict resolution, and court system.
In regards to the media, the report expresses concern that the distribution network is not equally accessible to everyone, which may stand in the way of achieving positive result from a new law about transparency in media ownership.
The law came into force in January 2012, and obliges media outlets to publish information about their owners.
In the recommendations part of the document, it instructs Georgia to 'Continue to strengthen freedom of expression and opinion; implement the law on Transparency of Media Ownership; ensure balanced media coverage and equal access to the media and advertising in the run-up to the elections.'
Elections happen to be one of the most important topics, as parliamentary elections are getting closer. They will be held sometime in October 2012.
At the top of the document there is a general recommendation to ensure free and fair parliamentary elections which comply with international standards. But then it is first topic which is described in the report about Georgia.
The EU's monitoring team also criticizes moves made by Saakashvili's National Movement party last fall, during a legislative process when the ground rules for the next election were worked out.
This process started in the summer of 2011, with long negotiations between the ruling party and the opposition. Only two opposition parties ended up signing an agreement with the government, dealing with changes for election reform, but when the bills were passed, it caused a wave of criticism from local and international organizations and the opposition, including the ones who signed the agreement.
"Certain changes to legal acts were introduced at a late stage in parliament, with unclear consequences for the political system in Georgia," the report says.
Before amending the legislation the Venice Commission and OSCE's ODIHR gave recommendations to the government regarding election legislation.
"However, the electoral code fails to address some key recommendations, in particular the different number of votes required to elect a deputy in different electoral districts, and it does not address ambiguities in the electoral dispute mechanisms."
There are concerns about particular law on Political Union of Citizens. It was adopted in December applying whole number of restrictions political parties and subjects in regards of financing system, but it also applied to legal and individual persons, and everyone who were directly or indirectly related to them. Civic organizations started campaign with goal to once again amend the law holding negotiations with government and finally achieving some results.
Document underlines progress achieved in regards of corruption, also 'notable achievements have been made in the area of Juvenile Justice and with regard to more liberal approaches in the criminal justice sector.'
EU report refers to spheres like poverty, employment, refugees, prisons and healthcare.
There are concerns about labor sphere.
"including the insufficient implementation of core ILO conventions, in particular No 87 on Freedom of association and protection of the right to organize and No 98 Right to organize and collective bargaining. The government has continued a dialogue with ILO, but has not yet given clear indications of steps made regarding necessary legislative amendments that were recommended by ILO in 2010."
Report recommends to improve labor rights and foresee the recommendations, also avoid escalation of local labor conflicts.
Problems in the labor sphere are mainly caused by amended Labor Code, which doesn't provide much guarantees for workers, who often strike, complain about unreasonably being fired, unsafe working conditions, salaries.
As Philip Dimitrov said on the meeting, EU is planning to review the document with government, non-governmental sector and opposition representatives.
Giorgi Baramidze, Georgia's Vice Prime Minister today responded to EU's report saying that there is nothing new in the document.
"Here are all issues, which are included in our plans and reforms. There was nothing unexpected for us there. Here are all issues which we will need to achieve progress. More work is needed for this. There is much more to do. This is in regards to strengthened democratic sphere, preparation for elections and many other spheres, it also applies to peaceful regulation of conflict with Russia," he said.