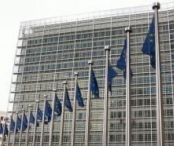 TBILISI, DFWatch–The EU Commission will publish legal document on Wednesday about visa free travel for Georgians to Schengen countries, according to Zviad Kvachantiradze, leader of the parliamentary majority.
"Tomorrow, Brussels will finally officially publish the proposed legal instrument, only for Georgia, for enforcement of visa free travel. This is the final decision, the final step by the EU in order to effectively enforce that Georgian citizens may go to the Schengen zone without a visa," Kvachantiradze wrote in Georgian on his Facebook page on Tuesday.
Levan Berdzenishvili, who chairs the Euro-integration committee in parliament, told DF Watch that the European Commission, which in a recent report recommended visa free travel for Georgians, will address the European Parliament and the EU Council tomorrow and say that Georgia.
"There will be an official address tomorrow, which means that the issue is moving to the technical part. The political decisions are made. Now there will be votes in the parliament and the council and maximum 3-4 months will be necessary to make a final decision about visa free travel," he told us.