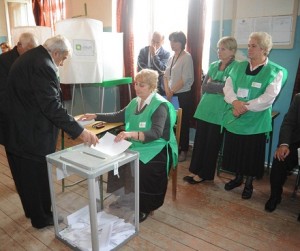 Tbilisi, DFWatch – The head and other senior staff members of the Central Election Commission of Georgia have been accustomed to get enormous bonuses, according to the recent report by ISFED, a Georgian NGO focused on monitoring electoral processes in Georgia.
"Analysis of the statistical information revealed a number of important trends – total amount of supplementary pays and bonuses paid to the CEC chairs equals their wage," the report states.
Tamar Zhvania, the current Head of CEC, for instance, received 329,520 laris ($150,000) as a salary during two years and two months from September 2013 to November 2015. Out of this sum, GEL 165,123 is a wage, the remaining are bonuses (GEL 66,762) and 'supplementary pays' (GEL 97,635). Thus, total amount of bonuses and supplementary pays for the CEC Chair amounted to 99.6% of her total wage.
Zurab Kharatishvili, who chaired CEC from January 2011 to September 2013, totally received 320,271 laris in this period. Out of this 90.5 percent are bonuses.
"Same system of provision of bonuses and supplementary pays applies to other officials or members of the Commission. For instance, from 2011 through December 2013, the CEC Deputy Chair Davit Kirtadze received total remuneration of 346,869.50, including GEL 172,408 laris in wages, 79,977 laris in bonuses and 94,484.50 laris as supplementary pays. Total amount of bonuses and supplementary pays received by the Deputy Chair amounted to 101.2% of his wage…
"In most cases, total bonuses and supplementary pays received by the CEC head officers and members is greater than 50% of their total wage and in some cases are as high as over 200% of their wage. We believe that such amounts of bonuses and supplementary pays are unreasonable and uncalled for," the report reads.
ISFED held presentation of the report on Tuesday publishing documents about salaries and bonuses/'supplementary pays' in CEC from 2011 to 2015. The organization recommends establishing limits for bonuses and other forms of monetary prizes as well as periods of receiving them, and clear grounds for eligibility.