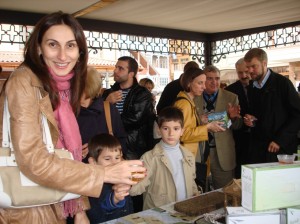 Can the Caucasus region be united through good taste? That was one of the questions as food producers from all over the region gathered in Tbilisi for a peace festival over the weekend, with the aim of building peace and develop food business in the Caucasus region.
Various types of tea, cheese, wine and honey from different regions were on display both for the eye's and the tongue's satisfaction.
Georgian, Armenian, Azerbaijani tea-growers, beekeepers, wine and cheese makers gathered in the downtown old district of Tbilisi to share ideas and discuss, examine and present their products.
The main aim of the festival was to present Caucasian brands; products which are made within the scope of cooperation in the Caucasus – Caucasian wine, tea, honey and cheese.
Representatives of each brand presented theire products and after tasting, people shared their opinion about which product was better. Many tourists also attended the festival.
Oskar Pentikainen, senior programm officer for Eurasia at the organization International Alert says that this festival is more about building peace than economic profit or doing business.
According to him, there are always problems when you are planning and holding such festivals in conflict regions.
"It is always easy to recount such kind of projects but it is not easy to arrange them. There are conflicts and we are working to make peace but this is not possible without difficulties," he says.
There are problems on the different layers of civil society, as he sees it. In a conflict situation people live in isolation from eachother and different stereotypes are being created.
"For example, when during a conflict a person has some negotiations, dialog to the other side he is named as a traitor in public talk. But our work is not on a political. We work with the public and our aim is not solving the conflict but to lay the groundwork for a peaceful future."
Oskar Pentikainen says that the result of such festivals is a chance for businessmen and others to talk to each other, share thoughts and sometimes there is even a 'bonus when companies from different regions sign some agreements and continue the cooperation.'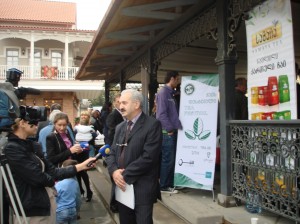 "To me the most important thing during this meeting was the warm and friendly environment. You really should see these warm and brilliant conversations among Azerbaijani and Armenian beekeepers, winemakers, and tea-growers," Alu Gamakharia, Chairman of the non-governmental organization (NGO) "Peace and Business" and co-owner of the Georgian tea producer Ternali, tells DFWatch.
"This once again indicates that these conflicts between the regions are provoked by third party countries, this is an entrenched problem, because such problems are less among people. Such meetings are one step forward. People want the borders to have a conventional character, like in Europe, or that there is no border. Free trade is needed. It would be good for economic progress and prosperity," he says, adding that they all had a prefect opportunity to listen to their colleagues' ideas and thoughts.
Alu Gamakharia is originally from Sukhumi, the capital of the autonomous republic of Abkhazia. He left for Kutaisi after the war and his organization has been working to improve relations between the conflict regions both when it comes to Georgia-Abkhazia and Georgia-Tskhinvali. Later he financed and became co-owner of the tea producing company Ternali.
Ternali has been producing tea in the Georgian region Tskaltubo for four years. The plant is located in the village Ternali. The company is focused on producing 'Green elite Tea – relatively little of it, but high quality'. According to Alu Gamakharia, the company is cooperating with Georgia's' breakaway region Abkhazian and Ossetia tea-growers; also with phyto-tea producers from Armenia.
They also have tried to revive the production of the ancient Georgian Agura tea, but that has only been exported to Mongolia.
Alugamakharia thinks that in Caucasus there is a problem of negotiation among the governments regarding this issue.
"For example Azerbaijani Tea Mariami is exported in Georgia and it's very popular, while Georgian tea is not exported to Azerbaijan, besides there is a great demand for tea, between 15 000 and 20 000 tons of tea a year," he says.
"I think the governments should negotiate on business issues. It's a really good business prospect for Georgia and it could create a significant number of jobs here."
Artush Mkrtchiani, from Armenia is co-initiator of the idea to create a Caucasian Cheese. According to him this cheese is a symbol of peace and dialog among conflict regions. This cheese was created by Armenian, Georgian and Turkish cheese makers.
"It had huge resonance, because the word 'diplomacy' had been used for the first time and the name of the project was Cheese Diplomacy. It was really good for further business development," Artush remembers.
Yesterday, Caucasian cheese was also presented at the festival and according to Artush, people who tried the cheese not only liked it but were also impressed and surprised how different and delicious cheese can be, because every region has its own variety of cheese.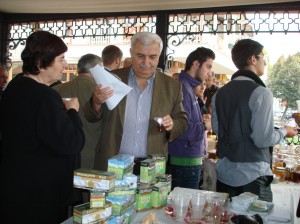 "We did not sell cheese on this meeting. Because its first aim was peacemaking; it was noncommercial. But of course we have further business development aims," he says.
"It was really a good opportunity. Many Armenians from Armenia and Georgia attended the Festival and I had a chance to talk in my native language to them and told them what does such cooperation mean, what a friendly country is Georgia."
Artush thinks that such meetings are very important to get rid of the economic borders. Cheese makers from these three countries share their experience and have a chance to learn from eachother.
"There was very interesting fact – in Armenian cheese plant Russian woman was teaching Georgian woman how to make Georgian Sulguni," he remembers.
"There was tea, cheese, wine, people tried everything saying that was good or this was delicious. It was important that people equally discussed products paying no attention where it was made. It was significant what people thought of product as consumer thing and politics was not important," Irina Grigoriani, chairman of Peoples Diplomacy Institute from Nagorno-Karabakh says.
Valeri Basaria, project coordinator for the NGO "Gali District: The Future Day" presented Caucasian honey. The aim of making this honey is to collect honey and bring together honey makers from seven regions: Georgia, Armenia, Azerbaijan, Nagorno-Karabakh, Georgia's breakaway regions South Ossetia and Abkhazia and also from Kars in Turkey.
A combination of the best honeys from these regions was presented at the festival.
"It was not really easy decision to make. These regions have many problems but they also share the same perspectives. With our product we wanted to say that in South Caucasus there is not only war and it is possible to create unique product like our honey," Basaria told DFWatch, adding that the aim of the project is not only business, but to build confidence and trust.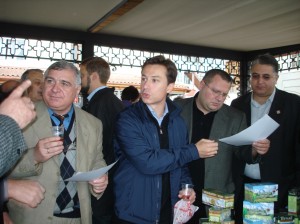 The Georgian tea festival began in 2005, but very few companies presented products then. It became an international festival from 2008 when Azerbaijani and Turkey representatives joined in. According to Tengiz Svanidze, president of the Association of Tea Producers of Georgia, at those days there was only 5% demand for tea in the Georgian population. Today it has increased to more than 15%. Such a festival is a step in the right direction for increasing the demand.
About ten Georgian tea companies attended yesterday's meeting with Armenian and Azerbaijani tea producers.
Avaz Gasalov, director of Society for Humanistic Research from Azerbaijan who attended the festival also thinks that it was really important to meet people.
"I think they are playing on people's feelings. They show how Caucasus could be a place where the nations are united. It all goes to show that the unification of the Caucasus is important and it also can be profitable," Avaz says.
"Even for me, as a person engaged in society, seeing Caucasian tea with Caucasian wine or cheese is very nice. And when I buy tea there it's kind of like a souvenir. But I don't want it to be a souvenir; I want it to be real Caucasian product made by different people."
The Caucasus Business and Development Network, International Alert, Basis Bank and others organized the festival.