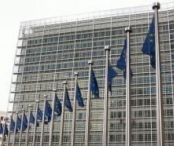 TBILISI, DFWatch–Two members of the European Parliament on Wednesday called on member states to accelerate the ratification of the association agreements signed with Georgia, Moldova and Ukraine in June.
Georgia, Moldova and Ukraine signed association agreements with the EU on June 27, but for the treaties to come into force, all of EU's 28 member states must ratify them.
So far, only four countries have done this: Lithuania, Latvia, Bulgaria and Romania.
A  joint statement by Bernd Lange, a Social Democrat and head of the EU parliament's international trade committee, and Elmar Brok, Christian Democrat and head of the foreign affair committee, condemns Russia's decision to introduce what they call illegal trade restrictions for Georgia, Moldova and Ukraine, not only recently but for the last two years. This contradicts Russia's obligations as WTO member, the two German politicians wrote.
The two also ask the European Commission to effectively assist in the temporary usage of the agreements by every means available.
Georgian Foreign Minister Maia Panjikidze was asked by journalists on Wednesday why the ratification process has taken so long. She answered that the reason for the delay is the summer vacation.
The Georgian parliament ratified its EU agreement on July 18.