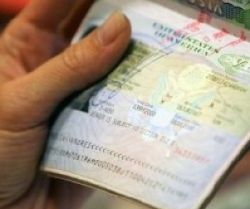 TBILISI, DFWatch–In a vote on Monday, a majority in the EU Parliament's Committee on Civil Liberties, Justice and Home Affairs (LIBE) supported giving visa-free access to the Schengen area for Georgian citizen.
44 voted for lifting visa rules for Georgian citizens, while five voted against. Germany was among the countries that voiced strong reservations, according to Reuters.
It was Germany that took the initiative in June to put the brakes on further visa liberalization in the EU, after a migrant crisis brought more than a million people into Europe last year.
A stronger suspension mechanism was put in place which allows EU countries to stop visa-free access from certain countries if problems arise.
Ukraine, Kosovo and Turkey are also waiting for the EU to decide about visa-free access for their citizens.
At the meeting Monday, the "LIBE" committee supported offering visa-free travel to citizens of Kosovo.
After the vote, the proposal still needs to go through further rounds of negotiations within the EU's complicated decision-making procedures before a final decision can be made.
EU enlargement czar Johannes Hahn recently told Radio Liberty that he thinks this procedure may be completed in October or November.