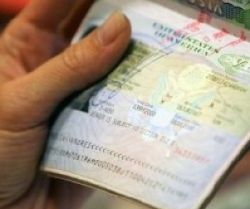 Tbilisi, DFWatch – After almost a year-long struggle with the new immigration requirements, the government of Georgia made a U-turn and granted visa-free stay for citizens of 94 countries, as well as British/French dependant/overseas territories, on June 8 'for full 1 year'. 
In May the parliament adopted yet another package of changes to the immigration law, which envisaged 360 days visa-free stay for citizens and permanent residents of countries listed in a governmental decree.
The list of the countries include EU, NATO and CIS member states. In addition, citizens of Argentina, Australia, Antigua and Barbuda, Barbados, Belize, Brazil, Bosnia and Herzegovina, the Bahamas, Bahrain, Brunei, Botswana, Colombia, Costa Rica, Dominican Republic, Ecuador, El Salvador, Honduras, Israel, Japan, Kuwait, Lebanon, Malaysia, Mexico, Montenegro, Mauritius, New Zealand, Oman, Panama, Qatar, Saudi Arabia, Serbia, Seychelles, Singapore, South Africa, South Korea, Saint Vincent and the Grenadines, Switzerland, Turkmenistan, Thailand and United Arab Emirates were also granted visa waiver.
Under the new regulations, an ID is enough for citizens of the EU member states to enter Georgia. The changes also include simpler procedures and lower fees for applying and obtaining Georgian visa and residence permit.
In September 1, 2014 Georgia enforced stricter immigration policy, stripping citizens from more than 100 countries of 360-day visa stay and introducing 90-day visa-free stay instead.
The government then argued that tighter visa rules were in line with the EU standards, while analysts noted that stricter visa regime was not related to the Association Agreement between the EU and Georgia. However, it received a lot of criticism because of unclear and complicated visa and residency permit application procedures.