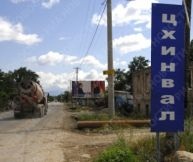 TBILISI, DFWatch–Georgia's breakaway region South Ossetia has published results of a census showing that only 7 percent of the population there are ethnic Georgians.
The region from which tens of thousands fled in the 2008 war today has only 3,966 Georgian residents out of a total population of 53,532, according to the report published by breakaway authorities on Thursday.
48,146 of residents are Ossetians and 610 Russians. There are 26,707 men and 27,825 women in the region, while most of the people (30,432) live in Tskhinvali, according to the census, which was conducted from October 15 till October 30, 2015.
The territory controlled by Tskhinvali includes two towns and four districts. There are 40 village administrations and 330 villages, out of which 40 are deserted.
The average age of the population is 40.1 year.
According to Georgia's 2014 census, there 30,000 refugees from South Ossetia living in other parts of Georgia.