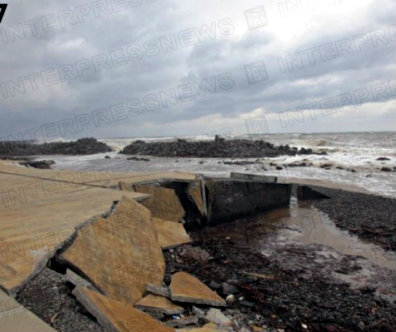 TBILISI, DFWatch–Bad weather continued to cause problems in many parts of Georgia on Sunday. A storm was raging on the Black Sea coast while rivers were flooded, damaging roads and houses in villages.
The river Khobistskali spilled over its banks, paralyzing the road between Chkhorotsku and Zugdidi, while water damaged bridges connecting smaller villages and broke down electric transmission poles. Corn fields and fruit were destroyed as a result of endless rain in recent days.
Flooding on the river Rioni damaged roads and houses in the villages Zhoneti and Opurchkheti in western Georgia. Emergency crews evacuated the population in the villages by using boats.
Roads are also damaged in Zugdidi and Kutaisi municipalities, while there was a landslide in the village Dologani in the Adjara region. According to Interpressnews, it blocked the road and prevented about 50 cars from moving. Traffic was partly restored after a while by use of special equipment. In the same village, a flooded river destroyed the central road in another section and partly blocked traffic.
There was a storm on the Black Sea coast but it didn't have any damaging results for Batumi, where the new boulevard was filled with mud. Wind tore down trees in Kobuleti and the trees destroyed transmission poles in the city leaving the city center without electricity.
There was heavy wind in the capital as well, damaging roofs and tearing some trees which fell down on cars but there was no serious damage.
Weather forecasts predict that from October 22, the temperature will increase to 25 degrees Celsius in western Georgia, but tomorrow it will be rain, while in the capital the temperature will be from 11 to 16 degrees Celsius.