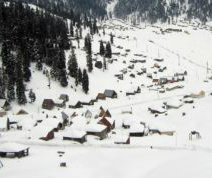 TBILISI, DFWatch–A 27 year old man was killed by an avalanche on Tuesday in Tusheti, in the northeast of Georgia.
A 44 year old man was also injured and taken to the hospital in Telavi, in the Kakheti province.
The victim was from the village Kistauri, near Akhmeta. The avalanche took place on a road that leads to Tusheti, near Tsodvaant valley.
The man who was injured is still in a serious condition, according to doctors.
Information Center of Kakheti quoted the deputy gamgebeli of Akhmeta municipality saying that the two men had sent off the sheep and were returning home.
"They left the car and tried to clear the road of snow, but there was another avalanche and both men were covered by the snow," Vazha Naskidashvili said.
Clean-up work has been going on for several weeks in Tusheti, but two days ago new snowfall caused a halt in the work.
Channel 1 reported that there were four shepherds in the place where the avalanche happened. All of them were trying to clear the road of snow. Those who survived the second avalanche called for emergency crew. All four came from Akhmeta.