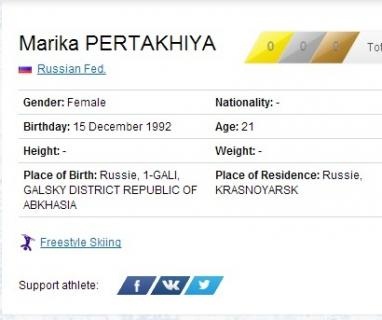 TBILISI, DFWatch–The Georgian Olympic Committee has complained to the International Olympic Committee about a Russian athlete's biographical details.
The website of this year's winter games incorrectly indicated that Marika Pertakhiya, who represents Russia at Sochi, was born in Russia.
The town of birth was given as Gali, Republic of Abkhazia. Gali is a district south in the breakaway region Abkhazia, which most countries consider a part of Georgia, but which for more than two decades has been controlled by its own government, propped up by Russia.
Pertakhiya's biographical details went blank on the website on Sunday. Later the same day, the data was updated and now gives her birthplace as Georgia, but says she was born in Gali, in the Republic of Abkhazia.