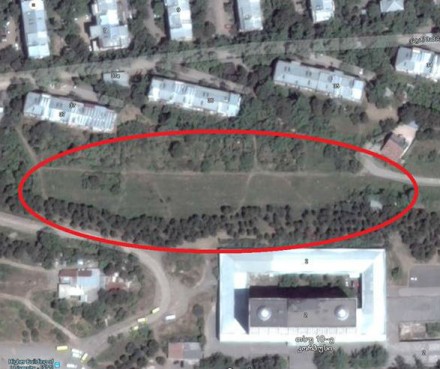 TBILISI, DFWatch–A construction company plans to build residential apartments on what according to locals is a cemetery for German prisoners of war from World War II.
According to the environmentalist group Guerrilla Gardening Tbilisi, construction is planned between the campus of Tbilisi State University and the sixth block of Vazha-Pshavela.
The company M2 Real Estate, which is owned by Bank of Georgia, wants to construct 19 story apartments there.
Mariam Bakradze from Guerrilla Gardening told DFWatch that this territory has status as recreational zone and it is unlawful to construct a building there.
According to Bakradze, locals discovered human skulls on the land in question, which proves that it is a cemetery.
"We know that locals from the nearby area object against this construction and appealed to the German embassy for assistance," she explained to us. "If Tbilisi City Hall issues a construction permit, Guerrilla Gardening will support the local residents."
Khvtiso Turdziladze wrote on Facebook that he has information from older generations that there are buried tens of German hostages from WWII on this particular plot of land.
"I remember we wanted to plant trees there and elderly people prohibited us children, explaining that it was a cemetery," he wrote on Facebook.
The website of the Architect Service of Tbilisi City Hall published information about the application to construct a 19-story building on this territory. According to the document the application was submitted on March 16, 2016 and the deadline for a reply is April 13.
The press office of Tbilisi City Hall told DFWatch that at the moment they can only say that a permission has not yet been granted and the applicant received a development regulation plan in 2011. We didn't get an answer as to whether this territory has status as recreational zone.
Historian Davit Jishkariani confirmed the presence of a cemetery on this land.
"A cemetery for German prisoners of war is not only near the university campus, but several other places as well. This includes the territory of Factory No 31 and this territory is fenced off, there are crosses as well. As for the territory near the TSU campus, there are documents which prove that there is a cemetery. However there is an assumption that not all of [the persons buried there] are Germans. It would be correct to say that it is cemetery of prisoners of war from WWII. This means that it is unlawful to construct something there and that the territory requires an archaeological study to prove that it is a cemetery."
We did not manage to get a comment from M2 Real Estate for this story.