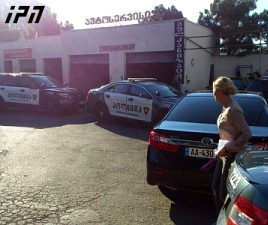 TBILISI, DFWatch–An enraged customer pulled a gun on an electrician and shot him at a car repair place in central Tbilisi on Monday.
The fatal disagreement took place on Kipshidze Street in the western Vake district.
Police said the customer had a quarrel with an electrician at the garage, and ended up shooting the electrician, who died from his injuries.
According to witnesses, the attacker fired two shots.
Rustavi 2 reported that the customer came to the garage and asked the electrician for assistance. The latter told him he was busy and that he had to wait for his turn.
"[The electrician] told the customer he was busy and he would help him later. The man left with his Mercedes and came back a while later with a BMW. He took a machine gun and shot the electrician. We never saw the man before," Interpressnews quoted employees of the workshop.
Police are investigating the case as premeditated murder and illegally storing and carrying a weapon.