TBILISI, DFWatch–Women comprise 53 percent of the Georgian population but are heavily underrepresented in politics, say activists from Georgian Women's Movement (GWM), a non-governmental organization working to promote women's rights.
On March 8, they organized a public rally in Tbilisi and  24 other towns and cities to demand more women in politics in Georgia.
"The Georgian parliament lacks representational democracy, women's interests are neglected and we are not willing to adjust to the system any longer," the group wrote.
Gender quota
In the capital, a few hundred people marched down Rustaveli avenue asking for a gender quota system which would ensure more women in the Georgian parliament.
One of the GWM leaders, human rights lawyer Baia Pataraia explained to DFWatch that they strive to have a gender quota introduced in party lists. The idea is to have women politicians listed as every second candidate in every proportional party list, thus guaranteeing that 38 out of the 150 seats in the parliament – 25 percent – go to women.
At the moment, there are 17 women MPs. The graph below illustrates the percentage of women MPs since 1991, and is based on data from UNDP research on gender equality and perception in Georgia conducted in 2013.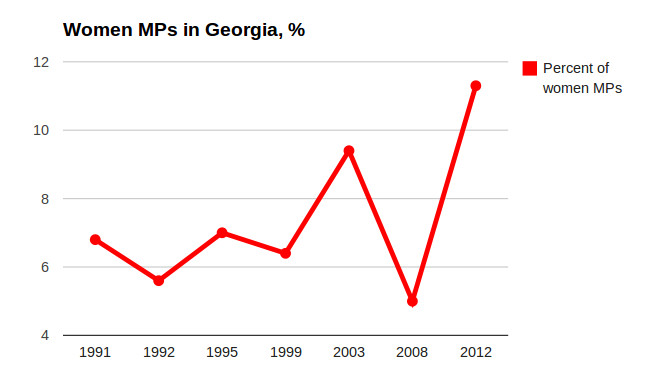 Women in Georgian politics
Despite the growth in the proportion of women MPs since 1991, the share of women in the assembly is still only 11 percent, a number which puts Georgia in 106th place out of 190 countries in terms of percentage of women in the national legislative body.
Out of 17 women MPs, 12 are in the ruling coalition and 5 in the opposition. Only 1 out of 15 parliamentary committees is chaired by a woman, and 5 committees have a woman as their deputy chair. Also, just 3 out of 20 government ministers are women.
According to GWM, women comprise only 11 percent of local council members all over Georgia, and this number hasn't changed in decades. In Telavi, Mtskheta, Tsalka, Aspindza and Poti there is not a single woman in a local municipal assembly, called sakrebulo. And only one municipality out of 59, Tianeti, has a woman as administrative head, so-called gamgebeli. There is not a single woman mayor or governor in Georgia.
Traditional gender roles
Despite growing visibility of feminist activism in Georgia, politics is still perceived as a men's playground with almost no place for a woman.
Already mentioned UNDP research on gender equality and perception in Georgia revealed that Georgians do not see politics as a place for a woman. Firstly, she is seen as a weaker person than a man, because she is more emotional, and politicians should be more firm. Also, the main domain of a woman is her household, thus she is perceived to be too busy with her household chores to be an active participant in politics. For these reasons, a woman cannot count on her social circle's and her spouse's support if she decides to pursue a career in politics.
According to UNDP, it all boils down to traditional gender perception, when a woman is seen as an obedient caretaker of the household and the family, and meanwhile a man is career-oriented and takes care of the family's finances.
And if a woman nevertheless decides to go into politics, she's expected to be in health care, culture, environmental protection, conflict resolution, social problems or women's rights spheres or serve in a diplomatic mission. At the same time, men are considered to be able to achieve success in every sphere of politics.
Changes in society?
However, another survey by NDI and CRRC gives more positive view on Georgian society. It shows that ⅔ (64 percent) of Georgians think that there is no gender equality in the country and over half of the population (55 percent) think that 17 women MPs out of 150 is too few. 70 percent of Georgians think that at least 30 percent of MPs should be women, and almost the same amount (68 percent) would support gender quotas.
Pataraia told DFWatch after the rally that these numbers are a sign of social change and that people are ready for gender quotas and more women in politics.