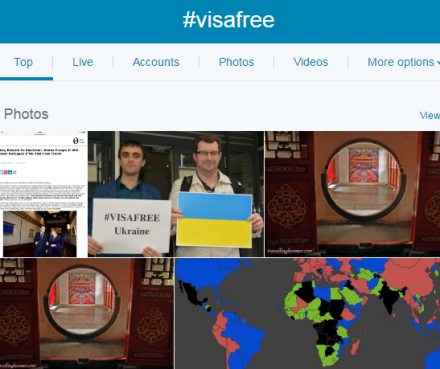 TBILISI, DFWatch–A group of activists rallied in Brussels on Saturday in support of Georgian and Ukrainian citizens being allowed to travel visa-free to the Schengen area.
The rally came days after the European Union put the visa waiver program on hold following a last minute objection from Germany with French and Belgian backing.
The rally on Saturday was organized by activists from the Civil Society Forum, an umbrella organization for non-governmental organizations in EU's Eastern Partnership mechanism, and was intended to launch a Twitter campaign in support of Georgian and Ukrainian aspirations for visa liberalization under the hashtag #visafree.
"Visa-free regime for Ukraine and Georgia should be introduced, since all technical criteria were met. These countries do not pose any threat to the EU in the issue of the migration crisis," the organizers were quoted saying by Ukrinform.
Spokespersons for Civil Society Forum claimed that a potential decision not to offer citizens of the two countries visa-free travel could impede their European aspirations on a political level.
"Now is the time for the EU to show solidarity with Ukraine and Georgia by means of abolishing visa requirements. Otherwise, the trust of Ukrainian and Georgian societies in the European Union will be undermined, which will have a negative effect on continuing important reforms," the activists said.
The European Parliament and the Council of the European Union are set to make a decision on introducing a visa-free travel for Georgian and Ukrainian citizens for short-term travel within the Schengen area following a legislative proposal put forward by the European Commission. The Council of the European Union will consider the issue again on June 10.
While French president François Hollande expressed his support for visa liberalization for Georgia, the French interior minister Bernard Cazeneuve recently pointed out that the issue 'couldn't be dealt with in the coming weeks and months.'