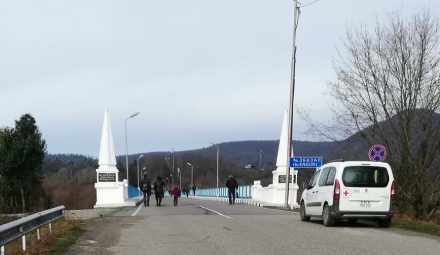 GALI, DFWatch–After requiring people to obtain a residency permit which costs almost USD 200, breakaway Abkhazia now threatens to cut off pensions and teachers' salaries of those who don't comply. Locals in the Gali region consider the new regulation a form of blackmail.
Gali residents, who are predominantly Georgian, believe the rationale behind introducing obligatory residency permit is to extort as much money from locals as possible.
"We have been threatened of having our pension taken away if we don't obtain a residence permit. The goal can only be to earn money, since such a document costs about 500 lari. How can a pensioner earn such an amount?" a resident of the village Tagiloni told DFWatch.
Adolescents over the age of 14 are have to get a residency permit. Locals fear that these demands sound like something of an ultimatum.
Sokhumi separatist authorities started issuing Abkhaz passports using the same type of threat. Specifically, that pensioners would have their pensions taken away, teachers were threatened of losing their salaries, and school pupils were threatened of being denied secondary education certificate, but due to internal disagreement within the Sokhumi government, the process was eventually discontinued. However, those Gali residents who started obtaining the necessary documentation have lost all the money they spent on the process.
Abkhazia breakaway authorities pay pensions only to those who possess either Abkhazian or old Soviet passports. The basic pension is 150 Russian rubles per month (a mere USD 2.70). In case of having a work book, the pension is 500 rubles (USD 8.90). Most of them also receive a Georgian pension, which is about 200 lari (USD 80).
Those having a Russian passport receive as much as 5,000 rubles (USD 88), but only a handful of Gali residents have that.
The residency permit grants Gali residents only freedom of movement but denies them other civil liberties, such as taking part in elections or being elected to office or buying a property.