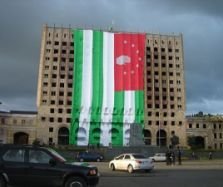 TBILISI, DFWatch–The referendum on early presidential elections in Abkhazia was declared invalid by de facto electoral commission due to low turnout.
According to Abkhazia's de facto Electoral Commission, slightly over one percent of eligible voters participated in the referendum.
An initiative group led by the Amtsakhara party started a petition calling for a referendum in March 2016. One 1 June, de facto president Raul Khajimba scheduled the referendum for 10 July.
The opposition subsequently called for a boycott of the referendum, claiming the government didn't give them enough time to field a campaign ahead of the vote. On 5 July, opposition activists organized a rally with the demand to dismiss de facto interior minister Leonid Dzapshba, which escalated into an attempt to break into the ministry's building. Raul Khajimba refused to postpone the referendum.
The opposition's demands for referendum come from their frustration with the rule of Khajimba, whom they accuse on failing to deliver on his electoral promises, corruption, and incompetence. Khajimba came to power in an early vote in 2014, after the previous de facto president Aleksandr Ankvab was forced to resign.