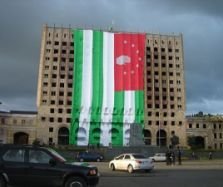 TBILISI, DFWatch–The Georgian breakaway region Abkhazia has decided not to lift a ban on selling real estate to foreigners.
The de facto parliament in Sukhumi has rejected a draft law that would have lifted the ban, which is written into the constitution.
A moratorium was announced on this issue, while former de facto Foreign Minister Sergey Shamba, who proposed lifting the ban, withdrew his proposal.
After more than two hundred thousand people were forced from their homes in the war in 1992-93, the breakaway regime in Abkhazia distributed the empty houses among the population that was left. Many ended up owning two, three or even more houses and apartments, but they do not really benefit from just owning the properties.
The proposal made by Shamba and fellow MP Giorgi Agrbasa on the order of de facto President Raul Khajimba would have allowed selling all kinds of property to foreign citizens. Shamba believes this would have brought important dividends to the Abkhazian economy.
Even though the proposal would not have applied to Georgians, it caused particular concern among the Abkhazian people and led to demonstrations which have increased the last few days. Many in Sukhumi believe that the car of oppositionist MP Almas Japua was blown up as a warning to him about this issue.
Tuesday, a gathering was held in downtown Sukhumi to express solidarity with Almas Japua. He is strongly against selling property to foreigners and a week ago he made a proposal in the de facto parliament about a moratorium on the question of selling property to foreigners.
Many Abkhazians, including local scientists or artists, fear that only Russians want to buy land and houses and this creates a demographic threat against the small Abkhaz ethnicity.