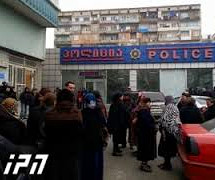 TBILISI, DFWatch–A 17 year old girl who was abducted several days ago was returned to her family on Monday and questioned by police.
Relatives say the kidnapper left Samira Bayramova at a supermarket near her home in Ponichala, a settlement in the southeast of Tbilisi. After her release, she called her parents and informed them of her location.
Police took kidnapped girl in for questioning, and released her in the evening.
She did not wish to comment to journalists, but one of her relatives told journalists that Samira has no injuries and hasn't been subjected to violence.
Relatives believe the girl was moved around from place to place but was in Tbilisi during her abduction.
The family doesn't want to withdraw their complaint and push for the perpetrators to be punished.
The victim has named suspects, but the names have not been made public.