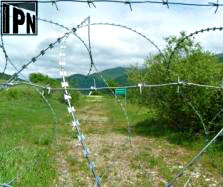 TBILISI, DFWatch–A 60-year-old Georgian man was detained on Sunday near the border with Georgia's breakaway South Ossetia for violating the border.
Valiko Khizanishvili, who is from the village Koshka, was detained when he was out in a field looking after cattle.
He was taken to a detention facility in Tskhinvali, the only town in the tiny territory which declared independence from Georgia nearly 25 years ago but still remains in diplomatic limbo with Russian FSB patrolling its perimeter.
Locals claim that the man had not crossed the border when he was detained.
The State Security Service confirmed his detention.
Ketevan Tsikhelashvili, Minister for Reconciliation and Civil Equality told Channel 1 that the government informed EU Monitoring Mission about what happened. The government expects the man to be released soon, she said.
"Our main goal is to prevent such cases so there are no more illegal detentions," she added.