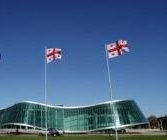 TBILISI, DFWatch–The teenager colluded with her boyfriend and another friend to knock her elderly mother unconscious, then they stabbed and killed her, dismembered the body, burnt it with gasoline at a garbage dump in Tbilisi and threw it in a ditch, according to Georgia's Ministry of Internal Affairs (MIA). 
Five people were detained for involvement in the brutal murder. Three of the youth, whose ages range from 17 to 23, are suspected of direct involvement in what the ministry described as 'a ritual murder.'
"The three detainees knocked the elderly woman Luba K. unconscious with an electric shock device and afterward stabbed her with a knife. The detainees placed Luba K's body in a large bag and transported it to a rented apartment, temporarily owned by Beka Sh, where they disintegrated the corpse," the statement reads.
"The same evening, the detainees took the dismembered body to a closed landfill located in Gldani, near penitentiary facility number 8, poured previously purchased gasoline over it and set it on fire. The offenders threw the body remains in a ditch to conceal the traces of the crime."
The three are charged with premeditated murder. Two have admitted committing murder, while the third detainee, who is a minor, used her right to remain silent.
The other two detainees are accused of having known about the macabre murder but failing to alarm the authorities.
Police examined the murder scene, the apartment where the body was disintegrated and the place where the burning took place. They collected evidence, interrogated witnesses and conducted forensic examinations, including DNA tests. The police also found video tapes.
The murdered Luba was reported missing by her family on October 19.
The case is being investigated as conspiracy to commit murder under aggravating circumstances, premeditated murder, concealing a crime and not reporting a crime.